Happy Friday everyone! Today I want to talk about manners. It's a subject that kept presenting itself to me over and over this last week both personally and professionally, so I thought I'd share what's rattling about in my head. I would be delighted if you would share your experiences on this topic in comments — what examples of "bad manners" have you experienced?
Five examples of bad manners in marketing:
1. Shouting
Shouting is tempting because we all want to be heard above the "noise." What do I mean by shouting? One example is the extreme repetition of message. A certain degree of repetition is necessary if you want to be heard, but there's a point where it becomes obnoxious. If you've been tweeting the same tweet, sharing the same product on facebook, and asking for favors on your blog at a relentless  frequency over a long period of time … ugh, shut up already. 
Seth Godin responded to some questions about his book Permission Marketing this week. It was first published in the 1990s, and if you haven't read it, it's still a great foundation on marketing. He reflects on how to approach it in the digital age:
Either you can work around the edges, spamming your way to more followers and more noise, figuring out how to make some sort of make-believe metric increase as a result of your efforts. Or, you can use these networks as a new form of 1:1 interaction, making promises and keeping them. This second path means that your followers are actually followers and that your friends are closer than ever to becoming friends.
2.Pushing (SPAM)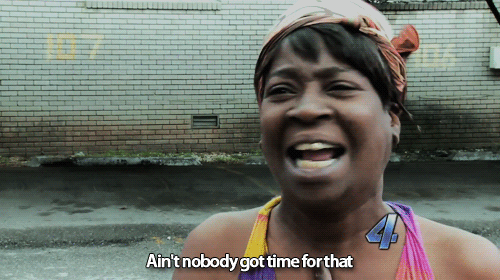 Back in the days of Don Draper, push messaging might have been all the rage, but these days, ain't nobody got time for that. I recently followed a very interesting and intelligent blogger who had lots of fantastic content relevant to my interests. So I followed her on Google+. That was the connection I chose and so she had my permission to put messages in front of me … ON GOOGLE+.
But then, I began receiving daily emails from her, I would open them expecting to have an actual email from her (how lovely, right?), but all I'd see is that she had shared her most recent blog post with me privately — which kicks in an automatic email notification from Google+. This practice is more commonly referred to as spamming. Yuck.
I liked her content and monkeyed around with my Google+ settings, but ultimately, a colleague of mine provided the simplest solution,
"Personally, I'd unfollow someone who pushes info to me I haven't asked for but that's just me."
And so I did. Because anybody who has been on the internet for more than five minutes should intuitively understand this is just bad manners and common sense. These tactics may drive traffic but at what cost? I imagine the cost is losing valuable members of your target audience, potential customers/partners/friends … pity. 
3. Being Overly-Familiar
J.T Ellison wrote a fantastic article about networking with authors on RedRoom.com this week. It's a tough-love piece, one I think every author, hell everybody, should take the time to read — full article here.
The world is changing rapidly, and authors are in the cross-fire. I think it's in large part due to the Internet, our ability to connect and actually feel like we KNOW people we've never actually met. It seems like there's less of a deference out there, and more of a familiarity, and as such, a sense of entitlement. And this sense of "I deserve a shortcut to achieve the same things you've worked hard for" attitude is incredibly scary to me.I understand that in our less formal world, it's easier to approach our heroes. Hell, I stalk my writing heroes on Facebook all the time. So I'm as guilty as the next person.

But there is a fine line between civility and friendship. Just because we've met someone, we can't presume to think that we're actually friends. The term acquaintance seems to have gone the way of the unicorn. And you don't presume upon acquaintances to do favors for you. It makes one think that perhaps, just perhaps, one might be being used.
4. Initiating conversations and then not responding
One of my biggest pet peeves of online marketing has to be when I respond to a message and then get no response in return. An example. I once received a tweet, "Hi nice to meet you, what questions do you have about XYZ?" How lovely! Because I actually did have a question about XYZ! So I responded with my question … and never heard from this person again. *crickets*
That's when I started to catch on about twitter automated responses. Which aren't inherently bad, but if you initiate a conversation, don't leave those people who actually do respond hanging. Believe it or not some of us online are actually human!
I started playing a little game on twitter to see who actually responds to messages — it's rare. And frustrating. But by simply being human, therein lies your opportunity! Be the person who engages and you might just gain that new customer the other person lost.
5. Leaving your manners offline
We've all witnessed people behaving online in ways they would never in a million years behave in person. Comments sections on blogs are filled with nasty vitriol, rants on Twitter when someone is angry with a brand can border on psychotic and make everyone uncomfortable, snotty-toned comments abound on discussion forums … look, we've all either done it or been tempted to unleash a bit of attitude toward an anonymous person on the internet. But, if you're looking to build a tribe  — you never know who is watching, who is lurking, who is monitoring your bad behaviors and thinking… erm, no.
You stay classy, San Diego.
What are your experiences with bad-mannered marketers? Let's dish. 🙂 And have a wonderful weekend, everyone!